Posted by Steve on Mar 1st 2019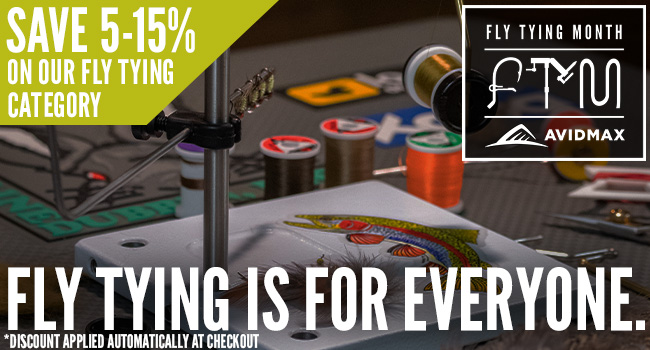 Fly Tying Month is back! Stock up with our fly tying sale and follow @avidmax on Instagram for a chance to win one of our giveaways. We've got a ton of great gear to giveaway this year - vises, materials, tools, accessories, and so much more!
Stock up on fly tying materials and tools:
Save 5-15% off the Fly Tying Category Valid: 3/1/2020 - 3/31/2020
Discount structure:
5% Off

Orders of 1 item or more

10% Off

Orders of 5 items or more

15% Off Orders of 10 items or more
*Items must be from the fly tying category to count towards the discount, and the discount will be applied automatically at checkout.
Weekly Giveaways
Every week in March we will be announcing that week's giveaway along with the rules for entry on our Instagram page. Make sure to follow us for your chance to win some of the amazing gear we have this year!
Fly Tying Videos
Subscribe to our YouTube Channel to see all of our fly tying videos, including a Fly Tying Month exclusive tutorial with a featured guest.
Guest & Featured Fly Tying Blog Posts
We have some great guest blog posts scheduled for this month. Make sure you follow our blog so you don't miss them!
We hope our Fly Tying Month can help you get stocked up and get you inspired for the upcoming fly fishing season!
Sale restrictions: Discount only valid on the Fly Tying Category from 3/1/2020 - 3/31/2020. All sales are subject to availability & not valid with any other coupons, newsletter sign up coupons, sales or promotions. Promotion may be subject to change.