Posted by Curt on Mar 1st 2019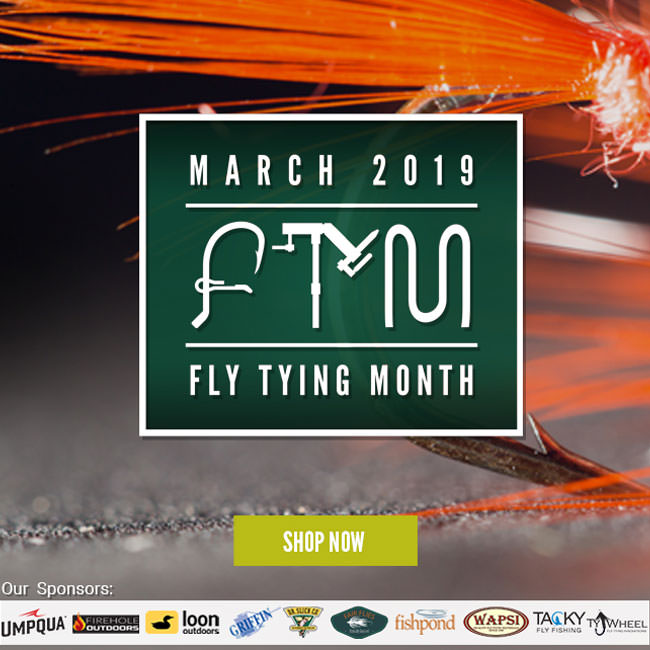 Fly Tying Month is back for 2019 and better than ever! Stock up with our fly tying sale and stop by Facebook have a chance to win one of our daily giveaways. Then take your best photo and submit it to our photo contest for another chance to win! This year for our giveaways we have 10 brands consisting of 168 products totaling $4500 of giveaway items! Enter one of our Daily questions or photo contests today!
Stock up on fly tying materials and tools:
Save 5-15% off the Fly Tying Category Valid: 3/1/2019 - 3/31/2019
Use coupon codes:
5% Off Orders Under $25: FLYTYINGMONTH5
10% Off Orders Over $25: FLYTYINGMONTH10
15% Off Orders Over $50: FLYTYINGMONTH15
Daily Facebook Giveaways
Every weekday in March starting today March 1st we will be asking a daily fly tying question on Facebook. Just make a comment in the daily post question, pinned to the top of the page and you are entered. The following morning we will randomly pick and announce the winner at 10am MST. So make sure you like our page and be looking for our posts for your chance to win something! This year we have more sponsors and more of a variety of giveaway gear!
Weekly Photo Contest
4 photo contests and 4 different themes, running all month long. Click the links below to enter each contest! They are the same themes from last year, so show us a new pic, new angle, new fish and of coarse a new adventure!
Guest & Featured Fly Tying Blog Posts
We have some guest blog posts scheduled for this month. Make sure you follow our blog so you don't miss them!
Fly Tying Videos
Tune in to #FlyTyingTuesdays right here on our blog or on YouTube to see all of our fly tying videos. During March's Fly Tying Month we will be doing DOUBLE the tying! A new pattern on Tying Tuesdays and we are adding another video every Friday in March as well! If you're new to fly tying make sure you check out our Fly Tying Fundamentals post and instructional videos we made a couple years ago.
We hope our Fly Tying Month can help you get stocked back up and get you inspired for the upcoming fly fishing season! So, enjoy the month and share your knowledge on our daily Facebook questions, enter your best photos in our photo contests and enjoy this focus on this wonderful pastime of fly tying.
Sale restrictions: Discount only valid on the Fly Tying Category from 3/1/2019 - 3/31/2019. All sales are subject to availability & not valid with any other coupons, newsletter sign up coupons, sales or promotions. Promotion may be subject to change.