Frequently Asked Questions
Q: Why does the price change when I add it to my cart?

A: You must first select all the product options before you add it to the cart. If you do this it will always be accurate. The reason some of the prices are different for different sizes for example of the same product is because we use a price matching software to always make sure we are competitive. That way, you will always get the best deal.
Q: What type of payment do you take?
A: We accept MasterCard, American Express, Discover, and even PayPal payments.
We also accept check payments. Please mail checks to us, with all product information you desire in your order. We will ship your item as soon as the check clears.
If your desired payment method is check, please mail to:
AvidMax
7399 S. Tucson Way Ste A3
Centennial, CO 80112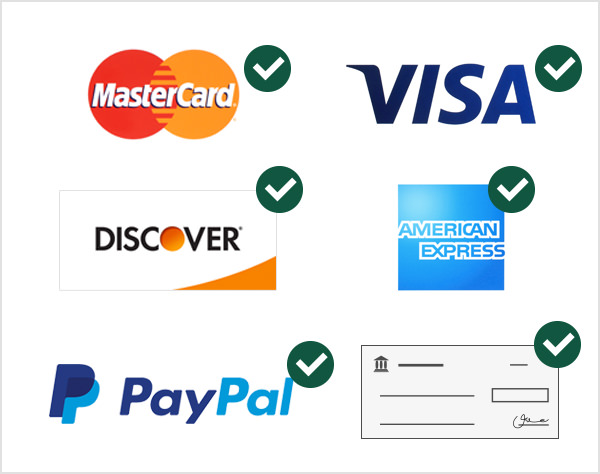 Q: Will I be charged sales tax?
A: Sales tax is dependent on our nexus within the state and location we are shipping the package. If your state qualifies, tax will be calculated and charged at checkout.
Q: Where do you ship from?
A: We ship most orders from Colorado. Some items may ship from an external warehouse.
Q: When will you ship my order?
A: Orders placed before 3:30 PM Mountain Time typically ship same-day or next business day. (Monday - Friday). We do not ship on weekends or holidays.
Q: I live in the lower 48 United States, when will my item arrive?
A: Standard Free Shipping will deliver within 3-8 business days. (Do not count weekends.)
Q: I need my item by a certain day. If I choose free shipping will it be delivered in time?
A: It depends on how much time you have. Typically our standard free shipping will arrive between 3-8 business days. This is a general guideline and if you think there is any chance it won't in time for your important trip, please choose an expedited guaranteed service.
Q: How can I calculate shipping costs?
A: All orders over $25 going to the lower 48 US ship for free. For expedited shipping quotes just add your item to the cart and click to view your cart. Click the green "Estimate Shipping & Tax" button and then add your country, state & zip/postal code to see your real time estimate.
Q: Do you combine shipping if I purchase multiple items?
A: Yes, we do combine everything we can. In some cases we do have to fulfill from 2 different warehouses, so in that case you would receive 2 shipments.
Q: Do you ship internationally?
A: Yes! Click here to see all international shipping details.
Q: Can I exchange my item instead of returning it for a refund?
A: Yes, we will work with you to get the right item to fit your needs. Please click here to start this process.
Q: How do I return an item?
A: You can return any item as long as it's new (unused) and still has its tags and original packaging. Returns must be made within 30 days of the purchase date, except during the holiday season any gift purchase can be returned up to 30 days after Christmas. Visit our Returns & Exchanges page for more info and we will email you the return instructions and your return authorization number, which must be included in the returning package. Please note we do not pay for return shipping.
Q: Are there any restocking or cancellation fees for returning an item?
A: As long as the item is new (unused), we do not charge you any fees for a return. (However, you do have to pay for return shipping.) Once the return item is received, you will be fully refunded, as long as it's unused, back to your original payment method. If we receive an item that is used, we may charge you a 20% restocking fee, or we can ship the item back to you.
Q: Do you sell gift cards or gift certificates?
A: Yes, we sure do. Click here to purchase one.