Sage Dart Fly Fishing Rod
Small Water / Fast Action
Designed specifically for small-water and tight quarters exploratory missions. Whether you are throwing tiny dries to small mountain Brook Trout with the 076-3, or bow-and-arrow casting the 476-3 with big foam into log jams searching for that trophy Cutthroat, the DART family has the right tool for the job.
OVERVIEW
The small water DART features a short-range fast action for chasing wary trout in still and clear water, close quarters, or obstacle-ridden streamsides. Specifically designed to drive precise loops under the branches of a willow while still providing delicate presentations and delightful feedback to the angler. The KonneticHD materials combined with performance-friendly fast action gives fishermen the ultimate competitive advantage against highly selective trout. The 0-4wt models at 7'6" provide the backbone of this family with ultra-light performance, while the shorter model in a 3wt provides a specialty tool to the angler looking for accuracy in extremely confined areas. The lightest, most precise casting small water rod ever made, the DART is destined to become a cherished tool in the trout fisherman's quiver for years to come.
Features Include:
KonneticHD Technology
Sapling Green blank color
Bronze primary thread wraps with Gold trim wraps
Fuji ceramic stripper guides; Ultra-light hard chromed snake guides and tip-top
Super Plus snub-nose, half-wells cork handle
Vera wood insert with Bronze anodized aluminum up-locking reel seat
Tan rod bag with Brown logo and model tag
Portobello colored powder coated aluminum rod tube with Sage Medallion
BRONZE THREAD WRAPS WITH GOLD TRIM WRAPS
VERA WOOD INSERT WITH BRONZE ANODIZED ALUMINUM UP-LOCKING REEL SEAT
PORTOBELLO COLORED POWDER COATED ALUMINUM ROD TUBE WITH SAGE MEDALLION
FUJI CERAMIC STRIPPER GUIDES; ULTRA-LIGHT HARD CHROMED SNAKE GUIDES AND TIP-TOP
ACCURATE DELIVERY OF SMALL FLIES
With a "close-quarters fast action" design, the DART is capable of high line speeds at close range. Easy loading in the bottom end and highly responsive towards the tip, the DART is able to quickly produce a narrow loop form that precisely delivers your favorite small stream flies.
CASTING AMONGST OBSTRUCTIONS
The short physical length of the blank offers the angler the opportunity to tuck into even the most overgrown creeks. Fallen timber and arching willow brush are no match for the compact build of the DART.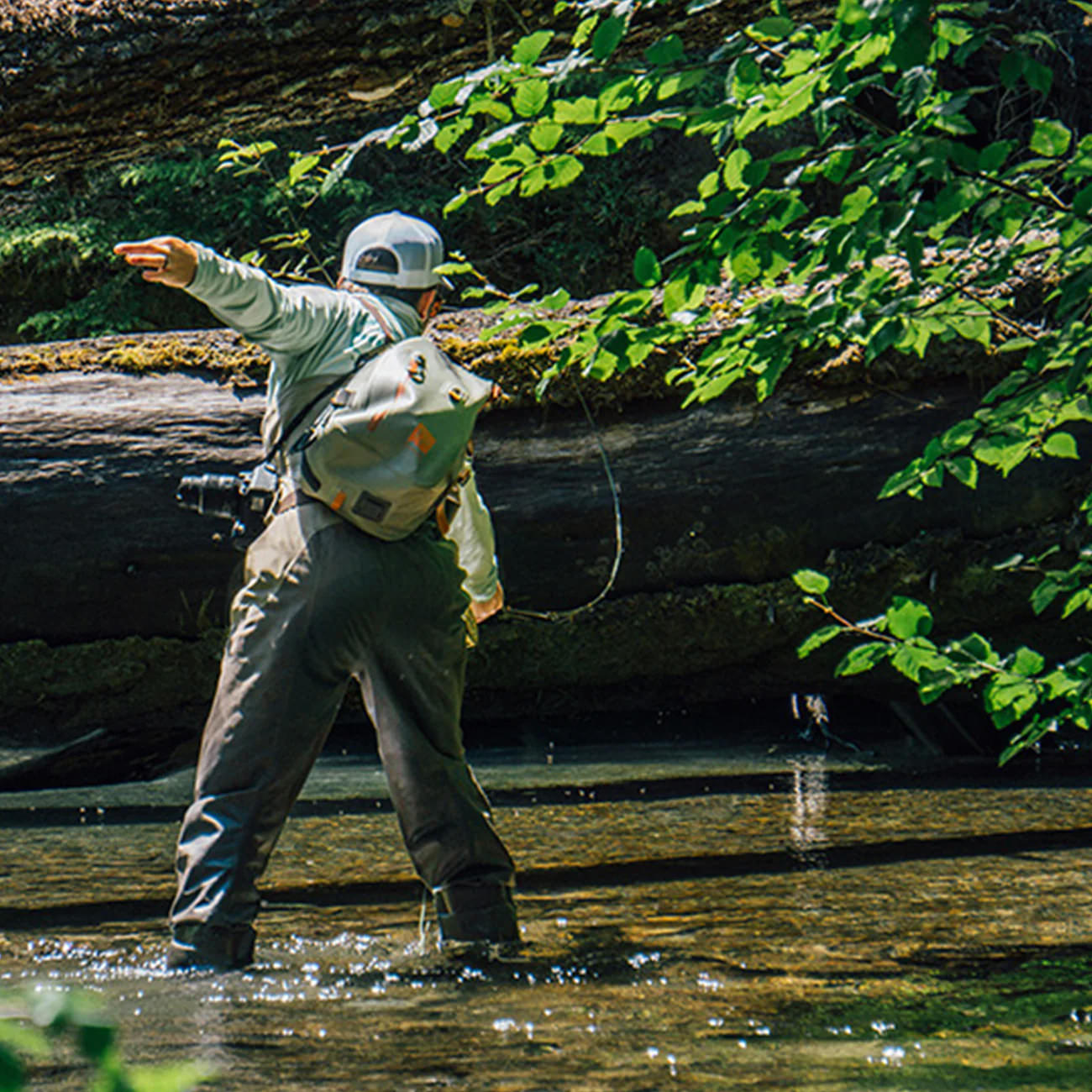 LIGHT, STEALTHY PRESENTATIONS
The easy-loading bottom end of the DART allows for unmatched sensitivity in hand. With minimal fly line out of the rod tip, anglers can feel the load throughout the entire casting stroke, allowing for extremely delicate presentations in close.
KONNETIC HD
KonneticHD Technology is the next era in performance graphite rods. Optimizing our graphite-to-resin ratio, we have created a higher density (HD) fiber composite, resulting in lighter, stronger blanks which deliver unmatched recovery, energy transfer, and line/loop control. Building upon proprietary construction techniques developed for Konnetic Technology, KonneticHD gives us an elevated platform to achieve new levels in rod design.
MADE IN USA
At Sage, craftsmanship is our people. We're not a big faceless factory, but rather a workplace of craftspeople who design and build the world's best fly rods and reels using our hands and hearts. We do it by sharing ideas and always asking the next question to find what can be done to make this better. Our rods are built one at time right here on Bainbridge Island, WA, following hundreds of meticulous steps and passing through 23 sets of hands. Our reels are also designed right here, and then precision-crafted with exclusive USA carbon to tolerance only Sage can deliver. We're out there fishing the same places in the same unforgiving conditions that you are. Craftsmanship is applied experience. Lifetimes of it.
DART 076-3
Ultra-Small Creeks / Small Fish
The ultimate in light presentation with small tippets and miniature flies. Dry flies: size 16 and up
DART 176-3
Ultra-Small Creeks / Small Dries
Extremely light presentation with the ability to deliver a larger mayfly and caddis patterns. Dry flies: size 14 and up
DART 276-3
Versatility In A True Ultralight Rod
Versatility in a true ultralight rod. The 2 weight line has the ability to land lighter than a piece of marabou fluff but can also present small hoppers when the opportunity arises. Small terrestrials to microscopic midges
DART 366-3
Small Water / Fast Action
Overhanging branches ahead AND behind? Present your fly with accuracy to places so tight that you never thought you could do it. Small to medium sized dry flies
DART 376-3
Small Water / Fast Action
A fantastic general-purpose, small to medium stream rod. Perfect for approaching a challenging spring creek. Small to medium sized dry flies
DART 476-3
Small Water / Fast Action
Perfect for small waters with overhanging branches where trout will still rise to a hopper or green drake. Can handle most terrestrials, small streamers
WARNING: Cancer and Reproductive Harm - www.P65Warnings.ca.gov
Model Overview
| Model | Line Size | Rod Length | Handle | Color | Pieces | Physical Weight | MPN | SKU |
| --- | --- | --- | --- | --- | --- | --- | --- | --- |
| DART 076-3 | 0WT | 7'6"" | Standard Handle | Sapling Green | 3 | 1 13/16oz | 2039-076-3 | 1297-245774 |
| DART 176-3 | 1WT | 7'6"" | Standard Handle | Sapling Green | 3 | 1 7/8oz | 2039-176-3 | 1297-245781 |
| DART 276-3 | 2WT | 7'6"" | Standard Handle | Sapling Green | 3 | 1 15/16oz | 2039-276-3 | 1297-245798 |
| DART 366-3 | 3WT | 6'6"" | Standard Handle | Sapling Green | 3 | 1 11/16oz | 2039-366-3 | 1297-245804 |
| DART 376-3 | 3WT | 7'6"" | Standard Handle | Sapling Green | 3 | 2 1/16oz | 2039-376-3 | 1297-245811 |
| DART 476-3 | 4WT | 7'6"" | Standard Handle | Sapling Green | 3 | 2 1/8oz | 2039-476-3 | 1297-245828 |
Q: What is your return policy?
A: Returns or exchanges can be made up to 30 days after the purchase date. We will take the item back as long as it is new, with all the tags and original packaging (if applicable). Click here to see all the details.
Q: When will my order ship?
A: Most items ship on the same day if placed by 3:30 pm MT Monday-Friday.Click here for more shipping info.
Q: How quickly will I receive my order?
A: We always strive to deliver as fast as we can. With that said, it depends on your location, the item(s) purchased, and the selected shipping method. If you choose our Free Standard Shipping you can expect a window of 3-8 business days. If you choose a paid expedited shipping method, refer to our shipping page for a better estimate.
Q: How do I get AvidMax Reward points for items I purchase?
A: All you have to do is sign up for an account and for each purchase you make you will receive 5% back in AvidMax Reward points. Easy! Create an account today!
If you have a question that we did not answer here, please shoot us an email or chat.