Sage Igniter Fly Fishing Rod
TECHNICAL CONDITIONS / ULTRA-FAST ACTION
When the wind picks up and casting situations get technical, the IGNITER is the rod to reach for. Whether you're on your favorite spring creek presenting tiny tricos to tricky trout with the 490-4, or punching streamers into a headwind probing for a lake dwelling lunker with the 7100-4, the powerful blank of the IGNITER will make sure your fly is delivered to the intended target appropriately.
OVERVIEW
The most demanding conditions require a different kind of tool. Strong head wind? Fish at distance? Bulky rigs? Heavy sink-tips? The IGNITER is tuned to handle the most technical of conditions. Not a rod for the everyday angler, the IGNITER is equipped with a high line speed taper to carry large amounts of line at distance with wind cutting performance. Perfect for streamer fishing with heavy sink tips or covering big water when conditions turn south. If you bring the will, the IGNITER will supply the way.
Features Include:
KonneticHD Technology
Cayenne primary thread wraps with Gunmetal trim wraps
Fuji ceramic stripper guides; Hard chromed snake guides and tip-top
Laser etched line weight on slide band
Black rod bag with Titanium logo and Chipotle model tag
Black powder coated aluminum rod tube with Sage Medallion
4WT - 6WT:Flor grade snub-nose, half-wells cork handleCocobolo wood insert with Gunmetal anodized aluminum up-locking reel seat
6WT - 10WT:Flor grade full-wells cork handle with EVA fighting buttGunmetal anodized aluminum up-locking reel seatIntegrated hidden hook keeper in reel seat
CAYENNE THREAD WRAPS WITH GUNMETAL TRIM WRAPS
COCOBOLO WOOD INSERT WITH GUNMETAL ANODIZED ALUMINUM UP-LOCKING REEL SEAT
BLACK POWDER COATED ALUMINUM ROD TUBE WITH SAGE MEDALLION
FUJI CERAMIC STRIPPER GUIDES; HARD CHROMED SNAKE GUIDES AND TIP-TOP
WINDY CONDITIONS
Fast is the name of the game with the IGNITER. Aggressive from the tip to the butt, the IGNITER is designed to punch through even the stiffest cross-winds and deliver your fly in the most technical of conditions.
LONG CASTS & LINE CARRY
Built with maximum stability throughout the blank, the IGNITER allows the angler to go the distance and reach the farthest lying fish, while still maintaining the utmost control and accuracy. A tricky trout that won't let you get within 50 feet is going to require a fly line with a long head for delicate presentation at distance. The powerful design of the IGNITER allows anglers to effectively carry that length of line to land the smallest of dry flies with delicacy at distance.
MAXIMUM POWER
Truly the Ferrari of fly rods, the IGNITER is built with the most power in our lineup, throughout the blank, and is capable of delivering your fly, big or small, to the intended target no matter the conditions. Whether it's a log jam across a wide pool or a tricky bank feeder tucked into the grass on the far bank, the IGNITER is designed to make sure your fly hits its mark.
KONNETIC HD
KonneticHD Technology is the next era in performance graphite rods. Optimizing our graphite-to-resin ratio, we have created a higher density (HD) fiber composite, resulting in lighter, stronger blanks which deliver unmatched recovery, energy transfer, and line/loop control. Building upon proprietary construction techniques developed for Konnetic Technology, KonneticHD gives us an elevated platform to achieve new levels in rod design.
MADE IN USA
At Sage, craftsmanship is our people. We're not a big faceless factory, but rather a workplace of craftspeople who design and build the world's best fly rods and reels using our hands and hearts. We do it by sharing ideas and always asking the next question to find what can be done to make this better. Our rods are built one at time right here on Bainbridge Island, WA, following hundreds of meticulous steps and passing through 23 sets of hands. Our reels are also designed right here, and then precision-crafted with exclusive USA carbon to tolerance only Sage can deliver. We're out there fishing the same places in the same unforgiving conditions that you are. Craftsmanship is applied experience. Lifetimes of it.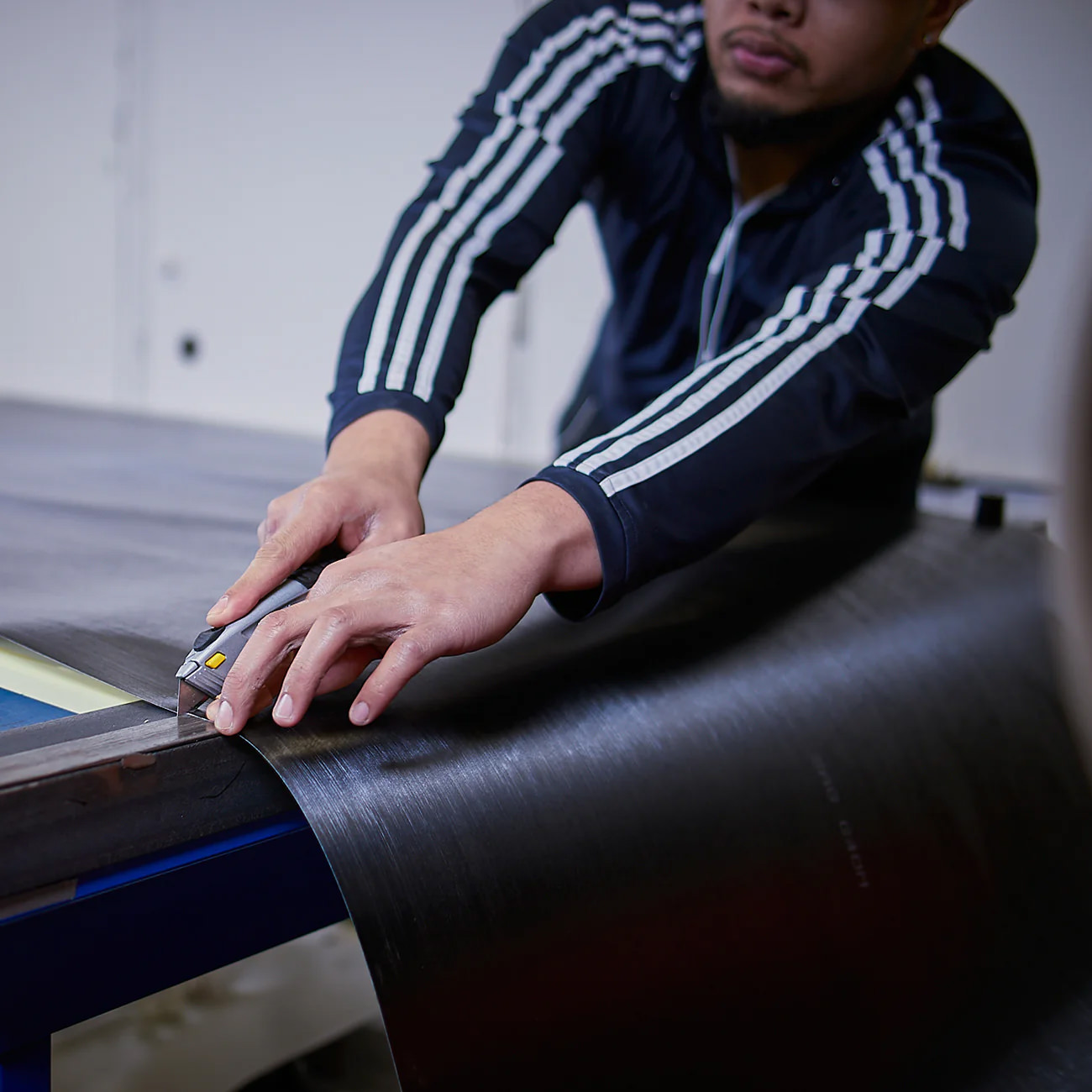 IGNITER 490-4
High Line Speed - Dry Flies / Wind
Best used for trout, when precision and presentation is required. Power to generate line speed for larger dry fly patterns, with the benefit of a soft landing 4wt line.
IGNITER 590-4
High Line Speed - Trout / Wind
Sage's most versatile trout-sized rod with extra power; enabling high line speed for distant targets and a wider variety of lines and flies. Why wade into the water when you can stand back, and make the same shot from the cover of the bank?
IGNITER 690-4
High Line Speed - Larger Flies / Wind
One of the most universal line weights; with the power to drive large dry flies into the wind, turn over large streamers, and lift sinking lines.
IGNITER 691-4
High Line Speed - Streamers / Larger Fish
A fighting butt version of the 690-4. At home on a flat fishing light saltwater patterns for small bonefish or in a drift boat throwing streamers to the bank. The fighting butt gives you added control to leverage the fight in your favor or added support while casting.
IGNITER 697-4
Powerful - Boat Indicators / Streamers
The added length of the 697-4 makes this rod extremely versatile. Ready for anything from trout to anadromous species to lake fishing. The extra length is advantageous for steeple casting over obstructions from the beach or aerializing line while seated from a watercraft.
IGNITER 790-4
Powerful - Heavy Flies / Streamers
The 790-4 has enough power to carry large, weighted flies into the wind, yet enough delicacy to present to spooky flats species like bonefish and redfish. Excellent choice for smallmouth Bass and larger wind resistant flies.
IGNITER 7100-4
Powerful - Big Indicators / Mending
The 7100-4 offers the most power, distance, and line control of any 7-weight in the family. Incredible mending capability in rivers and distance in lakes or bigger rivers.
IGNITER 890-4
Powerful - Heavy Flies / Salmon / Salt / Wind
Our most popular saltwater line weight capable of tackling most inshore species. The go-to model when conditions and quarry are unknown. Ideal for presenting long shots to bonefish in technical conditions. Power for lifting and positioning sinking lines in salt-and-freshwater environments.
WARNING: Cancer and Reproductive Harm - www.P65Warnings.ca.gov
Model Overview
| Model | Line Size | Rod Length | Handle | Color | Pieces | Physical Weight | MPN | SKU |
| --- | --- | --- | --- | --- | --- | --- | --- | --- |
| IGNITER 490-4 | 4WT | 9'0"" | Standard Handle | Chipotle | 4 | 2 13/16oz | 2038-490-4 | 1297-245620 |
| IGNITER 590-4 | 5WT | 9'0"" | Standard Handle | Chipotle | 4 | 2 15/16oz | 2038-590-4 | 1297-245637 |
| IGNITER 690-4 | 6WT | 9'0"" | Standard Handle | Chipotle | 4 | 3oz | 2038-690-4 | 1297-245644 |
| IGNITER 691-4 | 6WT | 9'0"" | Fighting Butt Handle | Chipotle | 4 | 3 1/8oz | 2038-691-4 | 1297-245651 |
| IGNITER 697-4 | 6WT | 9'6"" | Fighting Butt Handle | Chipotle | 4 | 3 3/16oz | 2038-697-4 | 1297-245668 |
| IGNITER 7100-4 | 7WT | 10'0"" | Fighting Butt Handle | Chipotle | 4 | 3 15/16oz | 2038-7100-4 | 1297-245682 |
| IGNITER 790-4 | 7WT | 9'0"" | Fighting Butt Handle | Chipotle | 4 | 3 7/16oz | 2038-790-4 | 1297-245675 |
| IGNITER 890-4 | 8WT | 9'0"" | Fighting Butt Handle | Chipotle | 4 | 3 13/16oz | 2038-890-4 | 1297-245699 |
| IGNITER 990-4 | 9WT | 9'0"" | Fighting Butt Handle | Chipotle | 4 | 4oz | 2038-990-4 | 1297-245705 |
| IGNITER 1090-4 | 10WT | 9'0"" | Fighting Butt Handle | Chipotle | 4 | 4 1/8oz | 2038-1090-4 | 1297-245712 |
Q: What is your return policy?
A: Returns or exchanges can be made up to 30 days after the purchase date. We will take the item back as long as it is new, with all the tags and original packaging (if applicable). Click here to see all the details.
Q: When will my order ship?
A: Most items ship on the same day if placed by 3:30 pm MT Monday-Friday.Click here for more shipping info.
Q: How quickly will I receive my order?
A: We always strive to deliver as fast as we can. With that said, it depends on your location, the item(s) purchased, and the selected shipping method. If you choose our Free Standard Shipping you can expect a window of 3-8 business days. If you choose a paid expedited shipping method, refer to our shipping page for a better estimate.
Q: How do I get AvidMax Reward points for items I purchase?
A: All you have to do is sign up for an account and for each purchase you make you will receive 5% back in AvidMax Reward points. Easy! Create an account today!
If you have a question that we did not answer here, please shoot us an email or chat.