Sage Salt R8 Fly Fishing Rod
MORE FIGHT, MORE TOUCH
Most salt rods are built for pure power and ultimate strength—that is table stakes for the venue and the discipline. With our new R8 graphite, adding 25% more strength-per-weight was the easy part—a simple function of material advancement—but one that also increased the fight in the rod even down to our six-weight. We increased the pure pulling power without the need to add more material, fillers or reinforcement. The outcome is simple, providing the ability for faster landing times and reducing fish stress and catch-and-release pressure on ever so delicate ecosystems.

More strength and fight were an obvious upgrade, yet few salt rods, especially in the heavier weights, achieve the importance of feel for fine touch shots and precise presentations. Shaping a taper that brought this increased touch into the equation took more time. Yet after a long residence in the birthplace of saltwater fly fishing, and working directly with the experienced guides there, our rod designers found the right profile and fiber alignment that delivered strength, fine touch presentation, and a more intuitive sweet spot to a class of rods that have long had a reputation as unwieldy, unforgiving and difficult. With the SALT R8, gone are the days of sacrificing the feel and touch in your saltwater rod.
Features Include:
Revolution 8 Technology
Titanium Fuji K-Guide ceramic stripper guides with oversized hard chromed snake guides and tip top
Laser etched line weight on slide band
Black rod bag with new quick-tie cord lock for faster, easier, and cleaner storage
Aluminum rod tube with Sage medallion
Premium Flor grade full-wells cork handle with EVA fighting butt
Heavy-Duty anodized aluminum up-locking reel seat with Integrated hidden hook keeper in reel seat
Tempest Blue blank color and Slate primary thread wraps with graduated White and Grey trim
Balancing Patience and Urgency
Whether maximizing your limited shots for Tarpon or blocking the right moon cycle for a Permit trip—or just delivering a quick, confident cast through wind at distance—saltwater is a game where patience and urgency are equally critical to maximizing opportunity. Whether on idyllic flats, coastal beaches or backcountry mangroves, you need faith—in your cast, your reaction time and your choice of rod.
Seizing the Moment in Saltwater
While saltwater locales often move slower, the fishing is faster, the pressure more intense and the variables more variable. From wind, weather and tides to spooky fish, seasonal migrations and salty guides, it's a different game with a different set of rules in venues that range from tournaments and Grand Slam flats to legendary bonefish lodges and hushed redfish beaches. The shots are fewer, the stakes are higher and seconds matter in sight fishing. By the third false cast, your time—at least for that fish—has passed.
The Unique Demands on Your Gear
But more than just delivering a fly on demand, saltwater sight fisheries necessitate a different tool than what works for your standard trout stream. A rod that loads quickly and predictably, a sweet spot more intuitive to feel. More strength to land fish quicker and more touch for precision short shots. A more durable rod that is built to survive both long skiff runs and remote destinations - where broken rods are absolutely heartbreaking. A precisely honed taper that will ensure your fly is presented in the right place at the right time.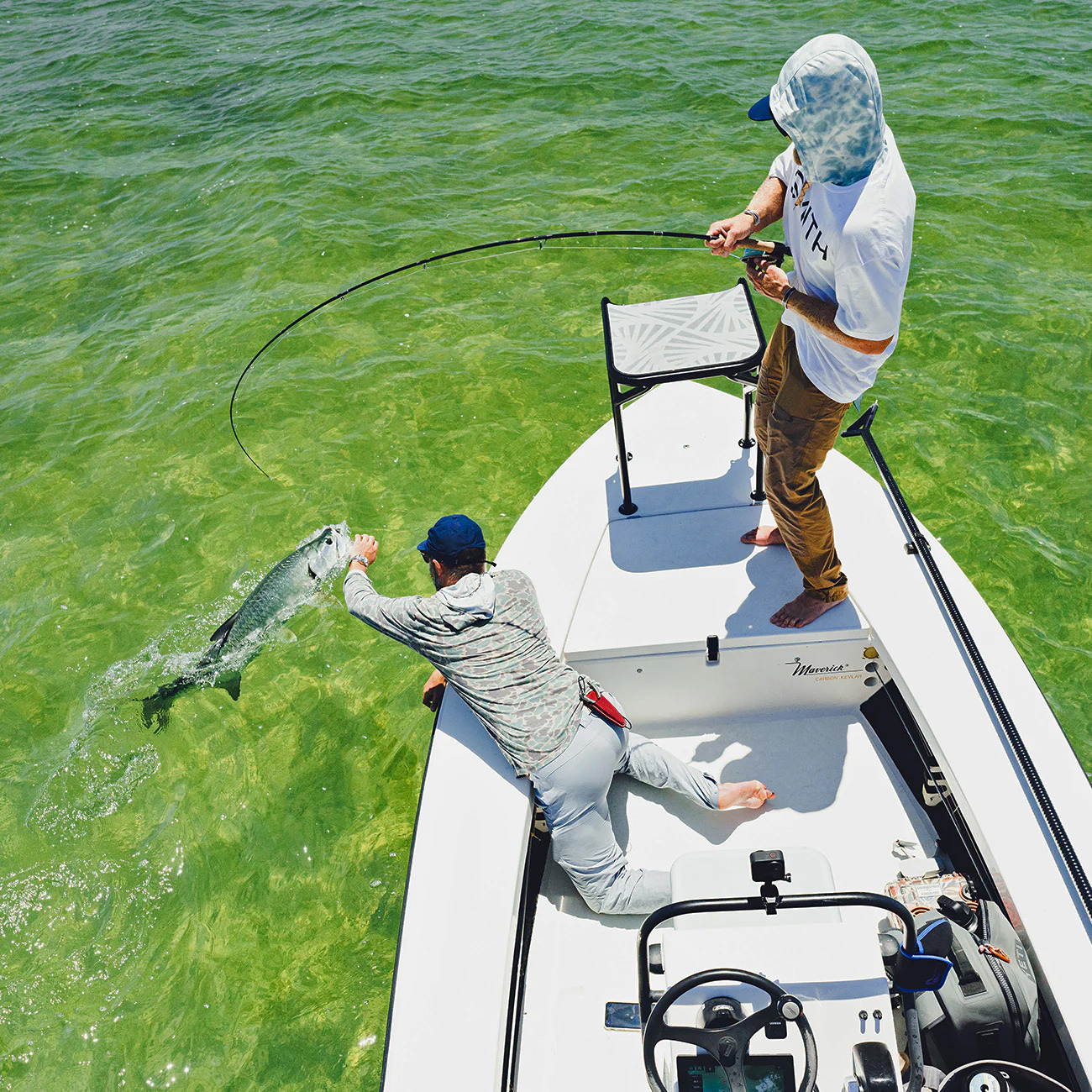 The Next Evolution in Saltwater Rods
For Sage, having Revolution 8 technology in hand meant now was the time to shape a dramatic advancement in saltwater rods that spoke to these truths right from the heart and birthplace of the discipline. Welcome to the SALT R8 — More Fight, More Touch.
BONEFISH RODS
In the light that still remains of the day, one tail glints in the evening glow, one unmistakable body quaking across the flat with methodical rhythm. The valves of your heart are working double time as the bonefish tips down. The bonefish feeds like it knows it is being watched, relishing in the spotlight - turning its tail in delight with every bite. You want, more than anything, to just watch - but your line is stripped out, ready to go. So are you. Fluttering a cast within a tail kick from the wakes, the bonefish changes direction toward your fly.
PERMIT RODS
Permit will catch you slipping at every opportunity. Brimming with polarizing surprises, a permit is the final boss in flats fishing critique - when you're ready to feel true pain, you start permit fishing. The knees get weak, the mouth becomes dry, the rod and fly become heavier than expected, and the cast gets sloppier than you thought was possible. There is often one opportunity, if you're lucky, and taking it means running in from the bullpen in the ninth inning, game on the line. If everything in permit fishing is left to chance, then today, you'd like to consider yourself lucky.
TARPON RODS
Running into the obsidian glow of a morning waiting to happen, your curiosity sparks. The formidable image of tarpon in formation reminds you that the only thing within your control is breathing. Inhale for six seconds, exhale for six. You can still breathe, right? Cruising under the delight of a sunny day, you know that your cast is an amalgamation of many disciplines: immaculate angles, a hungry tarpon, your perfect fly, a ripping tide, and a fish's compromised judgment must all stand still for a moment. This is your moment, so cast like you know you can. And don't forget to breathe.
REDFISH RODS
It's been almost 24 hours since you left these fish still tailing blissfully, unaware of your presence. You hope to interrupt the feast with a delicate cast to the starboard side of a turquoise blue tail flicking in the muck. You left in a rush this morning, knowing that the intersection of time and tide would only leave the porch light on for you for so long. The motor is up, your line stripped out and stretched. This time, you've given yourself hours to hurry up and wait, and you can hardly wait to see those copper fish cruising.
STRIPER RODS
Your casting arm is sore, and the space between your shoulder blades is black and blue from the business end of a clouser minnow. As there is an almost magnetic attraction to you and striped bass fishing, there is also a love affair that stripers have with nasty weather and wicked winds. Stripers are a fish that will do almost anything a fish can do. They cruise on shallow water flats like bonefish, lay in the soupy surf, plot in the boulder fields offshore, feed subtly in marshes and estuaries. They are the friend that shows up when you've needed them most.
COASTAL CUTTHROAT RODS
Stepping into the grip of the cold Pacific, the water clings to your waders. Cast, cast, cast. There is something tugging at your absent-minded line, swinging with the current. You lift the rod and find something you never thought you would - a cutthroat mawing at your wooly bugger. You happen to glance up the beach to find the angler in your usual spot is watching you wrangle in the fish that must have swam right past them. The fish kicks its tail back into the water and your cold, wet, gloved hand is back on the rod, ready to swing again.
ROOSTERFISH & GT RODS
Your rod is stuck between your armpit, and a two handed strip suits the fly as it zips through the clear water. The shadow behind it looks interested, now fully committed, and finally, flat out pissed. Suddenly, you hit a brick wall, and the rod becomes parabolic in its bend. The fly line escapes your grasp faster than you ever could have expected, the sand burning your palms. You could careless how your hands feel, because you know you're in for a good one. It's time to fight the impenetrable, the fish of your dreams tossing in the surf.
BLUEWATER RODS
The line between success and failure is as tippy as the horizon line your eyes are locked onto. In this moment of deep despair when time is seemingly stuck, you see spraying bait in all directions. As you toss the fly from the ready position, the rod you are holding feels nothing like the one you cast in the yard. Time is not your friend, and the boat rocks in the midday buzz of adrenaline. You'd like to consider this your Michael Jordan flu game, and as the buzzer sounds, the fly hits the water and disappears, almost instantly.
BLITZ RODS
Time is completely still as the cold air creeps through your fingertips and makes your casting hand go numb. The cork on the rod feels unfamiliar, and although you are out of your comfort zone, your movements are somehow excitedly succinct. The casting motion is quick, powerful, and snappy. Laying the fly in the middle of the mosh pit, you strip it erratically, watching it slide through the storm of fish. The moment you start to pick your line up off the water, you come tight to a fish hell bent on reaching the bottom of the ocean. Hold on tight.
Model Overview
SALT R8 690-4
Ultralight Bonefish / Searun Trout
Ultralight Bonefish for dead calm conditions or super skinny water and tight quarters to the Beaches and Sounds of the Pacific Northwest for All-Around Coastal Cutthroat.
SALT R8 790-4
Light-Duty Bonefish / Redfish
Lightweight Bonefish rod for soft wind, light flies, and shallow water to Light-Duty Redfish rod for soft wind days inshore and on flood tides.
SALT R8 890-4
Bonefish / Redfish / Flats Striper
All-Around Bonefish rod from the Bahamas, Christmas Island, Belize, Mexico, and The Florida Keys. All-Around Redfish rod from the Gulf Coast to the Atlantic Coast, oyster beds to spartina grass. Flats Sight Fishing Striper rod from the estuarian mud flats of coastal Maine to expansive white sand flats of Cape Cod.
SALT R8 990-4
Permit / Striper / Heavyweight Bonefish
All-Around Permit rod from the Florida Keys to Belize, shallow water, moderate winds, light to medium sized flies. Baby Tarpon and Snook rod from Ascension Bay to Belize to the backcountry waters of Florida. Heavyweight Bonefish rod for battling wind and large fish from Hawaii to the Keys. Bull Redfish rod from Louisiana to across the Gulf Coast. All-Around Striper rod, Maine to Montauk, surf casting to sand flats, tidal rips to blitzing bass.
SALT R8 1090-4
Light Tarpon / Heavy Permit / Redfish / Striper
Light Caribbean Tarpon rod from Belize to Mexico or Tarpon averaging 30-60 lbs. Heavyweight Permit rod for Mexico, deeper water, stronger winds, and heavier flies. Heavyweight Redfish rod for windy conditions on the Gulf Coast and big Bull Redfish. Big flies and sink tips Striper rod, Maine to Montauk, heavy dredging, wind resistant poppers, rocky shorelines and heavy wash. All-Around Roosterfish rod for Baja Mexico.
SALT R8 1190-4
All Around Tarpon
Go-to South Florida Tarpon rod and Tarpon averaging 50-150 lbs, lighter tarpon flies and softer/quicker presentations.
SALT R8 1290-4
Heavyweight Tarpon / Midweight Bluewater
Go-to Tarpon rod for Costa Rica deep water Tarpon to huge Gulf Coast Tarpon of Florida and heavy flies.
SALT R8 1290-4 FG
GT / Midweight Bluewater
All-Around GT rod for Christmas Island and across the Pacific and Indian Oceans. Midweight Bluewater rod for mid-sized Billfish and Tuna.
SALT R8 1586-4
Heavyweight Bluewater
Heavyweight Bluewater rod for large Bluewater species from Billfish to Tuna.
WARNING: Cancer and Reproductive Harm - www.P65Warnings.ca.gov
Model Overview
| Model | Line Size | Rod Length | Handle | Color | Pieces | Physical Weight | MPN | SKU |
| --- | --- | --- | --- | --- | --- | --- | --- | --- |
| SALT R8 690-4 | 6 | 9'0"" | Slim Full-Wells With Eva Fighting Butt | Tempest Blue | 4 | 3 5/8oz | 2055-690-4 | 1297-251966 |
| SALT R8 790-4 | 7 | 9'0"" | Slim Full-Wells With Eva Fighting Butt | Tempest Blue | 4 | 3 13/16oz | 2055-790-4 | 1297-251973 |
| SALT R8 890-4 | 8 | 9'0"" | Full-Wells With Eva Fighting Butt | Tempest Blue | 4 | 4oz | 2055-890-4 | 1297-251980 |
| SALT R8 990-4 | 9 | 9'0"" | Full-Wells With Eva Fighting Butt | Tempest Blue | 4 | 4 1/8oz | 2055-990-4 | 1297-251997 |
| SALT R8 1090-4 | 10 | 9'0"" | Full-Wells With Eva Fighting Butt | Tempest Blue | 4 | 4 1/2oz | 2055-1090-4 | 1297-252000 |
| SALT R8 1190-4 | 11 | 9'0"" | Full-Wells With Eva Fighting Butt | Tempest Blue | 4 | 5oz | 2055-1190-4 | 1297-252017 |
| SALT R8 1290-4 | 12 | 9'0"" | Full-Wells With Eva Fighting Butt | Tempest Blue | 4 | 5 1/8oz | 2055-1290-4 | 1297-252024 |
| SALT R8 1290-4 FG | 12 | 9'0"" | Extended Full-Wells With Eva Fighting Butt | Tempest Blue | 4 | 5 5/16oz | 2055-1290-4FG | 1297-252703 |
| SALT R8 1586-4 | 15 | 8'6"" | Extended Full-Wells With Extended Eva Fighting Butt | Tempest Blue | 4 | 7 1/8oz | 2055-1586-4 | 1297-252031 |
Q: What is your return policy?
A: Returns or exchanges can be made up to 30 days after the purchase date. We will take the item back as long as it is new, with all the tags and original packaging (if applicable). Click here to see all the details.
Q: When will my order ship?
A: Most items ship on the same day if placed by 3:30 pm MT Monday-Friday.Click here for more shipping info.
Q: How quickly will I receive my order?
A: We always strive to deliver as fast as we can. With that said, it depends on your location, the item(s) purchased, and the selected shipping method. If you choose our Free Standard Shipping you can expect a window of 3-8 business days. If you choose a paid expedited shipping method, refer to our shipping page for a better estimate.
Q: How do I get AvidMax Reward points for items I purchase?
A: All you have to do is sign up for an account and for each purchase you make you will receive 5% back in AvidMax Reward points. Easy! Create an account today!
If you have a question that we did not answer here, please shoot us an email or chat.